Welcome to mnamd.com. At Metropolitan Neurosurgery Associates, our expert team of neurosurgeons: Dr. Alfred Steinberger, Dr. Frank Moore, Dr. Marc Arginteanu, Dr. Kevin Yao, Dr. Yakov Gologorsky, and Dr. Omar Syed are dedicated to providing the finest possible care by utilizing breakthrough advances in brain and spine surgery. We treat many brain and spine conditions using a variety of cutting edge techniques from minimally invasive spine procedures to complex brain surgeries.
Neurosurgeon Serving
Bios, Recognitions, Testimonials and Publications
"The mission of our neurosurgical practice is to provide the best surgical treatment of disorders that impair the spine and brain.We utilize proven standard techniques and new, minimally invasive techniques for surgical intervention whenever possible. We combine our experience, training and clinical expertise in providing an environment where surgical intervention is performed to optimize a patient's outcome."
We Have Two Convenient Practice Locations
Englewood NJ and Manhattan NY
309 Engle Street, First Floor
Englewood, New Jersey 07631
Phone: (201) 569-7737
Fax: (201) 373-2041
Google Maps Link
1158 Fifth Avenue
New York,New York 10029
Phone: (212) 410-6990
Fax: (201) 373-2041
Google Maps Link
View some of our videos...
Testimonials and News Interviews
Patient Testimonial for Dr. Marc Arginteanu
Dr. Yao Featured News Interview
Patient Testimonial for Dr. Alfred Steinberger
Patient Testimonial for Dr. Frank Moore
On the Air: An Interview with Dr. Moore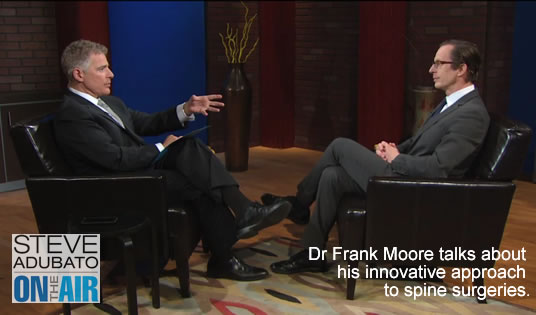 On the Air: Dr. Moore talks about his innovative approach to spine surgeries
Returning to Sports after Spine Surgery with Dr. Moore
Dr. Kevin Yao Explains Awake Brain Surgery