Dr. Frank Moore, M.D., F.A.C.S.
Board Certified Neurosurgeon
Dr. Frank Moore completed his neurosurgical residency at Mt. Sinai Hospital, in New York City, in 1990. Dr. Moore trained with Dr. Leonard Malis, who is recognized as one of the founders of modern neurosurgery. He has vast experience ranging from brain tumors to complex spine surgeries and has operated on over 6,000 patients.
Dr. Moore's individualized approach to patient care allows him to focus on the lifestyles and goals of each patient when developing a personalized treatment plan.
Dr. Moore has been selected by the prestigious Castle Connolly for over 10 years in a row. He has also been listed among the Best Doctors in New York Magazine. He continues to teach at Mt. Sinai Hospital, where he is an Associate Professor of Clinical Neurosurgery.
Dr. Moore is an avid athlete who has completed multiple Ironman competitions and who understands the desire of patients to return to activities shortly after surgery. Surrounded by an excellent support team and using state of the art techniques, he strives to achieve these results.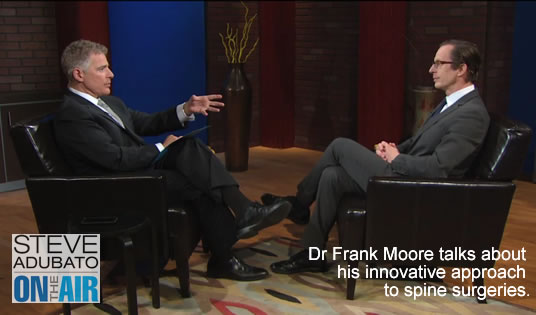 On the Air: Dr. Moore talks about his innovative approach to spine surgeries

Patient Testimonial for Dr. Frank Moore
" Dear Dr. Moore, Not a day goes by that I don't think of you and give thanks for your professional expertise, generosity, personal touch, and friendship. " -Pete
" Dear Dr. Moore, Thank you so much for your thoughtfulness and paitience. I do appreciate it very much. " -RT
" Dear Dr. Moore, Many, many thanks for all you have done for me since the past 2 years. " -SB
" Dear Dr. Moore, Thanks to all of you for helping me through difficult times. You are all fantastic. " -The Torress Family
" Dear Dr. Moore, Thank you for all you have done for me…Words cannot express the impact you have had on me. " -Barbara
" Dear Dr. Moore, Thank you very much for performing a wonderful surgery. Not enouch words to express how you have made me feel. Thanks a million. " -Gladys
" Dear Dr. Moore, Thank you for your time and care…I am confident that my back will get better. " -Ron
Dr. Moore's Press and Articles
Click on the image to read the article. Click on the back-arrow to return.