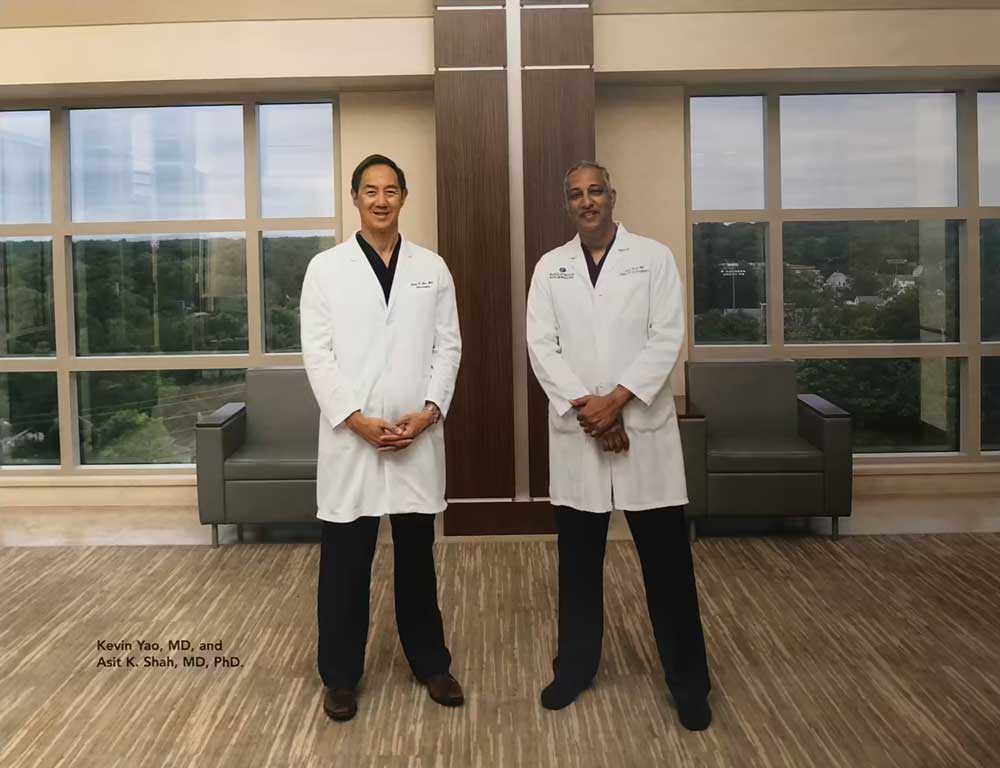 09 Aug

Game-Changing Technology Expands Spine Surgery Capabilities

As seen in Surgery Advisor.

A transformational new robotic imaging platform is now being introduced at Englewood Health that will further increase orthopedic and neurosurgical spine surgery precision, improve patient safety and outcomes, and reduce postoperative pain and length of stay.

As of this writing, Englewood Health is the only hospital in New Jersey to acquire this technology, and one of only two in the New Jersey/New York region.

The Excelsius Ecosystem (Globus Medical) combines the Excelsius3D™ imaging system and the ExcelsiusGPS® robotic navigation platform to provide surgeons with a comprehensive intraoperative, image-guided robotic surgery tool. Excelsius3D, which is the latest addition to the Ecosystem, is a mobile x-ray platform designed for 2D fluoroscopy, 2D digital radiography and 3D imaging of adult and pediatric patients.

The ExcelsiusGPS combines a rigid robotic arm and full navigation capabilities into a single, adaptable platform for accurate trajectory alignment in spine surgery. The Excelsius Ecosystem streamlines surgical workflow for surgeons and staff.
Neurosurgical Precision
"This is a very exciting time of innovation in spine surgery," said Kevin Yao, MD, the chief of neurosurgery at Englewood Health. "This technology takes us to the next era of spine surgery. It will facilitate even more precise and more minimally invasive spine surgery than is currently possible, which will translate into shorter patient recoveries and better outcomes."
Spinal fusion requires highly accurate placement of metal screws to be successful, explained Asit K. Shah, MD, PhD, the chief of orthopedic surgery at Englewood Health.
"With ExcelsiusGPS, however, there is this total paradigm shift with regard to image guidance and required surgical invasiveness," Dr. Shah said. "Excelsius integrates seamlessly, and will increase both speed and efficiency in the operating room."
The ExcelsiusGPS offers surgeons unique, real-time information both before and during procedures, enabling them to use robotic navigation to place screws with unmatched precision in spine procedures anywhere from the cervical to sacroiliac regions. In a study by Globus Medical on human cadavers, the platform demonstrated improved screw placement accuracy, increased both the length and diameter of screws, and reduced the number of fluoroscopic images taken and procedural times.
All-in-One Imaging Capability
Consolidating cone-beam CT, fluoroscopy and digital radiography into a single unit, Excelsius3D eliminates the need for multiple imaging devices during a specific procedure and provides enhanced visualization of patient anatomy. In addition, haptic-touch response and position memory streamline setup and transport to minimize workflow disruptions during surgery. The accuracy of screw placement is confirmed with another 3D image before the patient leaves the OR.
Excelsius3D technology captures an image similar to a CT scan and then generates a 3D view of the patient's spine, which effortlessly integrates with the robotic system during the procedure. "This technology allows us to precisely place spinal instrumentation with minimal disruption to the patient's normal anatomy," Dr. Yao said. "As an example, many spine surgeries that traditionally require large incisions will now be performed through slit-like minimal openings. This is beneficial for patients, allowing them to mobilize more comfortably and sooner."
"It is important that each surgeon have the ability to tailor surgery to the individual patient based on clinical findings," said Omar N. Syed, MD, a neurosurgeon at Metropolitan Neurosurgery Associates and Englewood health. "Having the ability to use the latest technology, such as image-guided surgery with navigation and now robotics, gives us the opportunity to do the best surgery, and safest surgery, for each patient.
"Englewood Health," he added, "has positioned itself to be at the forefront of spine surgery and is committed to bringing the most cutting-edge technology to its health system."
Advanced Surgical Capability
The technology will be rolled out in several phases, according to Yakov Gologorsky, MD, a neurosurgeon at Metropolitan Neurosurgery Associates and Englewood Health. "The first phase is the state-of-the-art intraoperative imaging system, Excelsius3D, which works beautifully with its complementary robotic system.
"With this imaging, it is like seeing through the body," Dr. Gologorsky said. "It allows for less muscle disruption, and the system supports robotic minimally invasive surgery, which results in even shorter lengths of stay and faster returns to functionality."
Dr. Gologorsky employs novel motion preservation approaches for disk replacement surgery. These procedures were designed for young, active patients (e.g., firefighters, military personnel, professional athletes) who need to quickly return to work after a disk replacement.
"We've been pushing the envelope and adapting technology that was designed for you people with one-level disease and applying it to the general population, with really stunning results," Dr. Gologorsky said. Among the innovations is the implantation of disks that self-adjust to movements of the cervical spine. He recently reviewed his experience with multilevel cervical arthroplasty in a letter to World Neurosurgery (2022;164:116).
Advancements from the Excelsius Ecosystem intraoperative imaging platform are not limited to spinal procedures. Englewood Health's orthopedic surgeons are also incorporating this latest robotic technology into orthopedic clinical practice to optimize patient outcomes and boost recovery times.
Minimally Invasive Means Major Benefits
Englewood Health's physicians are an integral part of every patient's care journey, tailoring decisions to meet each person's specific needs, whether or not their care includes surgery. "I focus on personalizing patient care because no two people are the same in terms of the type of problem they have," said Vishal A. Khatri, MD, an orthopedic surgeon and a member of the Englewood Health Physician Network who specializes in spine procedures at Englewood Orthopedic Associates and Englewood Health. The high degree of precision enabled by the Excelsius Ecosystem platform ensures that all procedures are truly personalized.
Englewood Health strives to return patients to their normal lives quickly, safely and pain-free, which is why surgeons use minimally invasive technique whenever possible. "Getting somebody back to work in one week versus four or eight weeks is a huge improvement," Dr. Khatri said.
The surgical goal is to achieve the maximum benefit that causes the least disturbance to a patient's body and life, and to reduce reliance on narcotic analgesia.
"That could mean a lot of different things," said Jay S. Reidler, MD, MPH, an orthopedic spine surgeon at Metropolitan Neurosurgery Associates and Englewood Health. "Sometimes it means using a tubular retractor system—a small tube that allows you to peer in toward the spine, minimizing disruption of spinal musculature which is dilated around it. When you take the tube out, the muscles just fall back into place. The effect is somewhat like working on a ship inside a bottle."
Traditional surgery often requires a patient to be hospitalized for three to four days, but after a lateral lumbar interbody fusion, patients are often ready to leave within a day or two, Dr. Reidler said.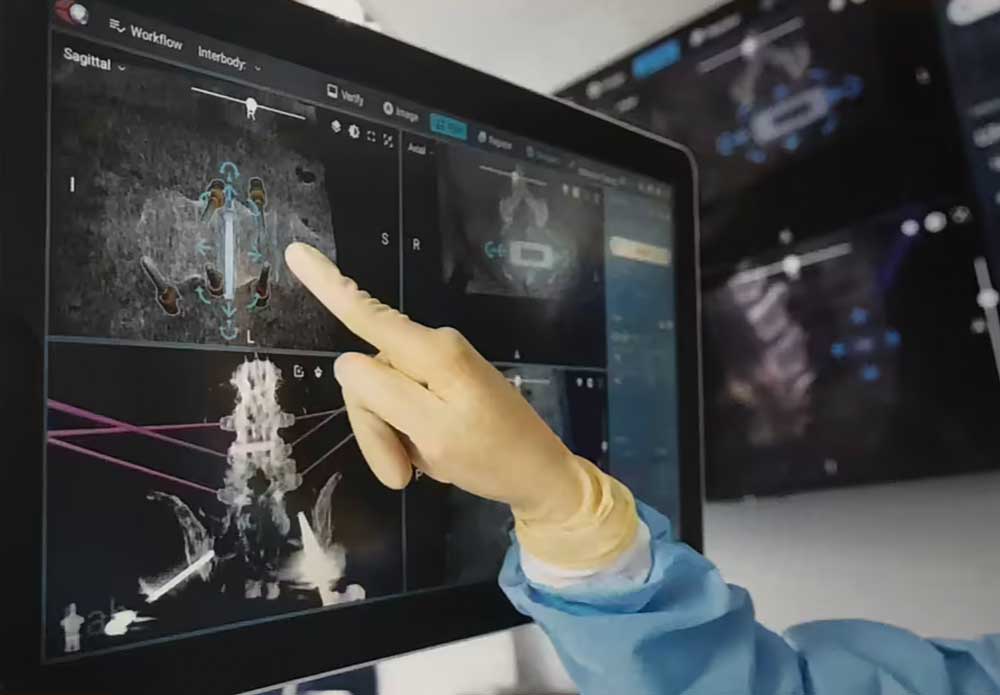 "It's extremely gratifying to be able to have an effect on people's lives," Dr. Reidler said. "They might come in with many years of suffering and feel like they can no longer work and can no longer enjoy time with their families because they are constantly thinking about their pain. To be able to remove that feeling and help give them back their lives is a tremendous thing."
"With the Excelsius system there is an additionall layer of checks and balances for the surgeons, and it ensures the best possible outcome for each patient," said Jonathan Lee, MD, an orthopedic surgeon at Englewood Orthopedic Associates and a member of the Englewood Health Physician Network. "The system gives us additional layers of information to enhance patient safety and improve accuracy."
The excellence of the spine program at Englewood has not gone unnoticed. "In 2021, Englewood Health again received the Joint Commission's Gold Seal of Approval for Spinal Fusion Certification," Dr. Syed said. To earn the certification, the hospital had to comply with national care standards, use evidence-based guidelines and have an organized approach to quality and performance improvement. "This national quality rating for spinal fusion surgery provides external validation of our safety and quality, which patients can rely on when choosing a hospital for spine surgery. Our team is providing top-notch spine care, day in and day out, and every member of the team is to be commended on this achievement."